The future Kingdom of God and its worldwide dominions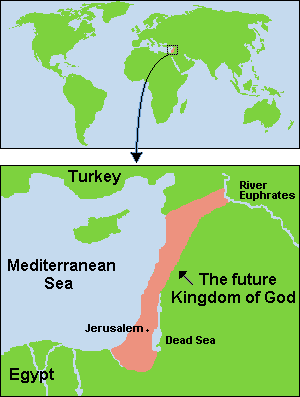 "And, behold, thou shalt conceive in thy womb, and bring forth a son, and shalt call his name Jesus. He shall be great, and shall be called the Son of the Highest: and the Lord God shall give unto him the throne of his father David: and he shall reign over the house of Jacob (Israel) for ever; and of his kingdom there shall be no end." [Luke 1:31-33]
Welcome
Jesus went throughout every city and village preaching the gospel of the kingdom of God [Mark 1:14; Luke 8:1].
'Gospel' means 'good news', so Jesus told the people the good news of the Kingdom which God will establish in the land of Israel. This kingdom of God in Israel will have an empire extending over all the earth, therefore Jesus taught his disciples to pray, "Thy kingdom come. Thy will be done in earth, as it is in heaven." [Matthew 6:10].
It is our aim to show you that true Gospel message which Jesus taught.
---
Public Bible Presentations
If you are interested in finding out more about the true Gospel that Jesus taught then come along to one of our illustrated Bible presentations. Different subjects are considered each week and these are held in the Brisbane bayside area of Queensland, Australia. So, if you are interested in learning more about the Bible, or you have a Bible-related question then come and see us.

"...they searched the scriptures daily, whether those things were so..." [Acts 17:11-12]
For details of upcoming Bible presentation subjects or a map on how to find us then please go to the Bible presentations page. For further details please contact us.